2016 Cowboys Draft Overview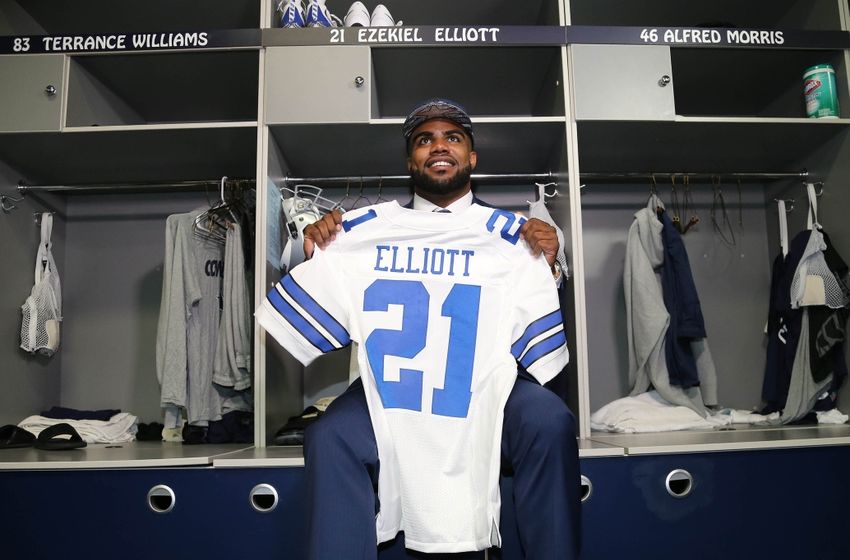 Every player drafted by a team last Thursday-Saturday was deemed a quality player by someone. That's important to remember as there were quite a few picks that EVERYONE hated and quite a few picks that EVERYONE loved. History tells us that some from each category will surprise us by not being what we initially thought. Maybe Jalen Ramsey is a bust at #5, maybe Eli Apple becomes a perennial Pro Bowler at #10. With that in mind I wanted to give both sides to each pick of the Cowboys. Below are the Cowboys 9 draft picks with my player profile of them, an argument for the selection, an argument against the selection and then my final thoughts in a quick overview. The first two picks will be lengthy as these were valuable assets at #4 and #34 which often determine a franchise's future for a long time. Hit on them, like the Raiders did in 2014 with Khalil Mack and Derek Carr, and your future looks bright. Miss on them, like the Browns did in 2014 with Justin Gilbert and Johnny Manziel, and you are right back at the top of the draft after having endured more years of losing and misery. These picks are valuable and are worth discussing in detail while the rest can be analyzed more quickly.
Selection: 1st Round (#4 Overall)
Ezekiel Elliott Ohio State 5'11 ¾ 225 Jr. He ran a 4.47 40 which is elite for a RB of his size. His '10 ¼ hands are huge, tied for the biggest amongst all running backs at the Combine, and is good to see as big hands usually means few fumbles. He had 1,821 yds rushing in 2015 which would be in the running for tops in the country most years. Last year it was only good for 5th but at 6.3 ypc he did it very efficiently. I also love how consistent he is as he had 1,878 yds in 2014 on 6.88 ypc. Considering how different his 2014 and 2015 offenses were, it is a testament to his pure talent that he could excel in any situation. Teams in 2015 knew Ohio State struggled throwing the ball, they stacked the box and Elliott still exploded on them. Michigan State and Hawaii (38-0 win so not necessarily a valid game to complain about) were the only teams that held him to under 4.3 ypc. As a runner he's a complete back as he's a good pass blocker, pass catcher out of the backfield, he can lower his shoulder to get tough yards and then he can break a long one to the end zone. His 2015 Indiana game is impressive as he broke numerous long runs and each one wasn't just a wide open hole he raced through but a cut here, a broken tackle there and then he was in the open field and couldn't be caught. His lateral quickness and vision are rare for a back with his strength and quickness. He can juke guys and leap over guys but he doesn't get too fancy with his footwork and usually is one cut and go. NFL teams will like that N/S style he has. Purely on talent his ceiling isn't as high as Todd Gurley's was last year, who I openly stated had Hall of Fame potential, but Elliott is one of the most talented backs to come out of college in quite awhile and he's very safe too. He doesn't lack the burst that resulted in Trent Richardson being a bust, he isn't injury prone like Gurley and he dodges people and avoids punishment unlike next year's Top 5 pick Leonard Fournette. Elliott projects as a future Pro Bowl running back who will excel as a runner and receiver. He's the rare prospect that can both be called one of the flashiest players in a draft and also one of the safest as a prospect. Top 10 as my #1 RB 4/27/16.
Defending the pick: Ezekiel Elliott was one of the best players in this draft. He graded out as one of the best running backs to come out of college in years. He will be joining the best offensive line in football and, if he pans out, the Cowboys will have the best rushing attack in the NFL for the next 4-6 years. Why are so many people having a problem with this pick? He has a 4 year rookie contract at $24,965,720 so basically 4 yrs $25 mil ($6.25 mil a year). Everyone just last offseason were clamoring for the Cowboys to trade for Adrian Peterson. Peterson is 31 years old and is on a 3 year $42 million deal ($14 mil a year) yet people are upset we drafted a 20 year old who will get $6.25 mil a year? I don't get it. At the end of his 4 year rookie contract I fully expect Elliott to have 2-4 Pro Bowls and 1-2 rushing titles on his resume. Moneyballing the running back position has become so in vogue that it has become almost standard practice around the league. When viewed through the prism of certain teams, Patriots, Saints, Mike Shanahan led offenses, the results appear overwhelmingly in favor of the strategy yet Tom Brady and Drew Brees are two of the best QBs in NFL history. You can put crap around them and they will dominate regardless. Tony Romo is a very good QB but he isn't Tom Brady. In 2014 when DeMarco Murray led the NFL in rushing, Romo led the NFL in QB Rating at 113.2. Only one other season in his 11 year career has he had a QB Rating over 100 (102.5 in 2011). Clearly he played his best football when he had an elite running game tethered to him. Also the idea of moneyballing the running back position is a theory in a vacuum. It basically assumes that none of your draft picks or salary cap has been apportioned and therefore it is worthwhile to spend more of your money on other positions than one that is easily filled on a "replacement player" level and isn't durable long term. This vacuum scenario is not relevant to the Dallas Cowboys who have already invested three first round picks on their offensive line and soon will be re-signing these Pro Bowl players to +$10 mil a year contracts. The Cowboys have already allotted a lot of resources into creating an elite offensive line so it makes sense to conclude this strategy by getting the best running back you can find to maximize those earlier investments. Everyone needs to calm down with their holier than though, trendy theories about the running back position because Elliott will be the rookie of the year in 2016, will be a Pro Bowler within his first two years and will have a rushing title within his first three. Jump on the Elliott bandwagon before you look foolish.
Panning the pick: The Cowboys drafted Ezekiel Elliott at #4 overall. At the news conference they stated they wanted to recreate the 2014 balanced offensive attack as they saw it as their best way to win a title. News flash, they didn't win the title in 2014 and they weren't even that close. This is important to understand as that year the Cowboys had the leading rusher in the NFL (1,845 yards on 4.7 ypc) and had the highest rated QB in the league (113.2 QB Rating). So basically they were as good as can be on offense AND STILL couldn't make it past the 2nd round of the playoffs. Why? Because their defense was terrible. The Cowboys had a chance to improve on that terrible defense with the #4 and #34 picks in this year's draft and instead chose a running back and a linebacker that won't play in 2016. Bravo. It takes balls to look at a team with 5 Pro Bowl caliber offensive players (6 if you include Dan Bailey) and 0 Pro Bowl defensive players and determine that your next foundation type player to be added should be on offense. Elliott is a very talented player and he will be very successful in a Cowboys uniform but I didn't see a problem with Darren McFadden and Alfred Morris in 2016 and would have much preferred a combination of Jalen Ramsey and Myles Jack or Jalen Ramsey and Noah Spence added to this team's defense. A healthy Romo and Dez with that offensive line will make for a Top 10 offense. The issue was the defense and, somehow, the 2016 defense wasn't improved on in free agency or in the draft. This is a failed pick that is only redeemed in some peoples' eyes because it is a flashy pick. Well make sure you get front row seats to the Elliott show folks because its run appears likely to end in December every year.
Overall: I was surprised how negative the response from the media was on Elliott. It is hard to argue he won't be a Pro Bowl running back and that it wasn't a huge addition to this team. That being said I was fine with Elliott only if Ramsey wasn't available and am very surprised the Cowboys didn't trade down from #4 to #6 with the Ravens for their 3rd rounder. I have my doubts that anyone was looking to trade into the Top 5 for Elliott so it seemed like a surefire trade if the Cowboys had to have Elliott over Ramsey. That being said the Cowboys have become reluctant to trade down in the 1st Round, after years of doing it regularly, and it might be time to just trust them as in the last six drafts they've been the best team in the league at drafting in the first round with 4 Pro Bowlers (Dez Bryant, Tyron Smith, Travis Frederick, Zack Martin), a potential Pro Bowler (Bryon Jones) and a mediocre starter (Morris Claiborne). I see Elliott joining the first group which means the Cowboys are a great season by Byron Jones away from drafting 6 Pro Bowlers in the past 7 drafts. Maybe we should all give Cowboys management a break. I worry that Ramsey becomes a perennial Pro Bowler at cornerback or safety and makes us regret passing on him but the Elliott pick was a solid one and is being unfairly panned. I give it a B+
Selection: 2nd Round (#34 Overall)
Jaylon Smith Notre Dame 6'2 223 Jr. He's listed at 240 at Notre Dame so his 223 Combine weight surprised me. Many people viewed him as the #1 Overall Prospect before his injury. I've never been as high on him as others have as his two +100 tackle seasons is good but his 4.5 sacks, 1 INT and 3 FF in 3 seasons is hardly elite. Also I've always viewed WLB in a 4-3, his most natural position fit, as one of the easiest positions to fill and would have a hard time pulling the trigger on him until all of the highly rated QBs, LTs, pass rushers and cornerbacks were off the board. On the field he was dynamic as he has 4.5 or possibly even 4.4 speed and is very physical for his size. I've had a 1st round grade on him since his Sophomore year and have had him on my radar since his freshman year so he has very good pedigree (top HS recruit as well). Where he's special is in pass coverage as he has the speed and agility to defend the pass as well as any linebacker in the country. Pre-injury I had him as a mid to late 1st rounder. Yet everyone's grade on him changed after his bowl game injury as it was devastating. He tore his ACL and MCL but most importantly he suffered nerve damage that possibly will never fully heal. It's telling that even his agent admitted he won't be playing in 2016 as the agents always sell teams around draft time about them being ready for training camp and other bullshit (best example is Marcus Lattimore's agent selling teams that he'd be ready for game 1 as a rookie, he basically never played again). Smith has pass rush potential if he can play in the 240s but his pre-injury grade was based too much on potential. Mayock said he had special pass rush skills yet how can he say that when he had a grand total of 1 sack in his last year in college? Smith was always overhyped to me as he looked like a potential Pro Bowl 4-3 LB but you don't take guys like him over an elite LT like Tunsil or an elite S like Jalen Ramsey. This idea that he was in the discussion as the 1st Overall Pick is ludicrous and is being exacerbated by the media that loves the story of the "fallen star." Smith though would have settled in as a mid 1st on my board and he's worth a roll of the dice after the end of the 2nd Round as he does have Pro Bowl potential. There is a distinct possibility that he doesn't play in 2016 and comes back as a shell of his former self in 2017 but I'd roll the dice on him at some point as his upside is immense. Early 3rd round as my #5 LB who is a roll of the dice due to his devastating injury 4/26/16.
Defending the pick: When a prospect you had a Top 10 grade on is available at #34 you don't think about it, you just turn in the card with his name on it. The best franchises in the NFL don't draft for need, they take the best player available. The best franchises in the NFL don't look at a team for the upcoming season but look at a team five years from now. Teams with long term outlooks end up winning more often than teams with short term outlooks so we shouldn't be criticizing the Cowboys for drafting with one eye to the future. Admit it, if the Patriots had traded up in the draft and taken Jaylon Smith everyone would have fallen all over themselves praising the "genius of Bill Belichick." The Cowboys take him and they're idiots. Mel Kiper had Jaylon Smith as his #1 Overall Player last November and the Cowboys got him at #34. This could be the steal of the draft but everyone in Dallas is so worried about the 2016 season they can't even see it.
Panning the pick: Some will argue for Smith by stating he was a Top 10 or even Top 5 pick on their board before the injury, I am not one of them as he didn't have great instincts, was overrated as a pass rusher and is kind of a rich man's Darron Lee in my eyes. He seemed to be a more athletic but less well rounded linebacker compared to Myles Jack, whom I preferred, so it's especially aggravating seeing the Cowboys take Smith over Jack. Both were 1st round talents that slipped due to injury concerns but Jack is currently healthy and is ready to practice at mini camps this summer, let alone when the regular season comes around this fall. Why did the Cowboys have to pass on him for Smith who won't play in 2016 and may never play again? Also the chatter was that Smith was a 2nd or 3rd rounder while Jack was a 1st rounder. I'm not convinced that Smith wouldn't have been still on the board at #67 when they drafted again and then my mind almost explodes thinking of the possibility that the Cowboys could have drafted Jack AND Smith if they had just switched the order. You don't take guys with medical red flags as serious as Smith's until the impact players are off the board. When the Cowboys were on the clock at #34 there were still impact players to be had. Myles Jack, Noah Spence, Mackensie Alexander, Su'a Cravens and Vonn Bell all seemed like good values on the defensive side of the ball and would have been considered likely candidates to start this year for the Cowboys. Smith won't play in 2016 and IF/WHEN he steps on the field again it will be one year closer to Tony Romo's retirement party.
Overall: Smith could become one of the steals of the draft but he was a huge risk for any team to take in this draft. I didn't see the Cowboys being a good fit for this risk as they need impact players on their defense now and somehow didn't add one despite picking near the top of Rounds 1 and 2 for the first time in over a decade. Also I tire of the Cowboys apparent lack of an overall strategy as the Elliott pick seemed to be an all in on the last few Romo years and then rumors went around that the Cowboys tried to trade up for Paxton Lynch and then they chose Jaylon Smith, two picks that seem to be a 180 degree change from the Elliott/all in approach. Finally the fact that the Cowboys passed on Jack for Smith is probably the most frustrating part of the whole thing as Jack seemed like the perfect middle ground where they got their Top 10 talent at linebacker AND add someone of impact to their defense for 2016. Instead they chose a linebacker that only arguably has a higher upside and it cost them any chance of adding a stud defender for this season. The Cowboys better be right on Smith or this will be an embarrassing miss in their history and could turn the 2016 draft into Elliott and a bunch of players no longer with the team. I grade this pick a C-
Selection: 3rd Round (#67 Overall)
Maliek Collins Nebraska 6'1 ⅞ 311 Jr. He had a great 40 (5.03) and really good quickness drills (4.52 shuttle, 7.53 3 cone). He only had 1 season with more than 30 tackles but did have 8 sacks in his 3 year career with his Sophomore year (45 tackles, 4.5 sacks, 10.5 TFL) being better than his Junior year. He's a one gap penetrating type DT and has good arm length for that type ('33 ⅛). He has a noticeable burst when attacking a QB and his highlight reel is pretty impressive. He clearly missed Randy Gregory in 2015 though and can be easily shut down if double teamed. He has a few plays where he just beats his man immediately off the snap but most of his sacks, pressures and TFL come from a bull rush where it takes him a decent amount of time to disengage from his blocker. Championship wrestler in high school going 48-0 his senior season. He isn't that strong and needs to gather himself to take down a QB. His short area quickness and burst are elite as was his 2014 film making me wonder what happened in 2015 as his production was very mediocre. He probably played himself from a late 1st/early 2nd to a mid 3rd round grade because of it. Collins is a tough grade as there are flashes of Pro Bowl talent but he's too inconsistent as a pass rusher production wise and as a run defender he is mediocre at best due to his average strength. Mid 3rd round as my #10 DT who has a high ceiling but is scheme specific (one gap only) and has a lot of bust potential in him 4/23/16.
Defending the pick: Collins is a perfect fit for Rod Marinelli's scheme as he's an explosive, one gap DT that is at his best when he is penetrating. The Cowboys will use him in a rotation so his questionable strength and run stuffing skills won't be exploited and will allow him to do what he does best, rush the passer. He flashes Pro Bowl skills so there is a high ceiling on him. He also has been productive the past two years in a Big 5 conference so he should be expected to be the #3 DT, behind Crawford and Thornton, from day 1. He is a good combination of value and schematic fit. Don't be surprised if Collins plays a lot in 2016 and wins a starting job in 2017.
Panning the pick: In 2014 Collins was on a loaded defensive line and looked great. In 2015 he was by himself and regressed a bit, making me question whether he wasn't a bit overrated previously due to the talent around him. Collins has serious bust potential to him and I question why the Cowboys chose him over more talented defensive tackles like Jonathan Bullard, Andrew Billings and Hassan Ridgeway. He was solid value in the 3rd round while those guys would have been steals at that spot.
Overall: Collins is solid value and a perfect fit for the Cowboys scheme so I have no problem with the pick. It wasn't a steal by any means and with the DT class having such depth you could argue they should have addressed other positions and taken a DT later but that's nit picking. Good value and great fit equals good pick. I grade this pick an A-
Selection: 4th Round (#101 Overall)
Charles Tapper Oklahoma 6'2 ⅝ 271 Sr. He has extremely long arms ('34 ⅜) for his size and his '11 ½ hands are some of the largest I've ever graded. His 4.59 40 is elite for a true DE. His sack total of 15.5 the past three seasons is not impressive but he consistently helped in other areas with 37-50 tackles each of those years. He plays tentatively and isn't a true playmaker. His size/speed ratio is elite but it doesn't show up on film as he's very tightly built, isn't aggressive as a rusher and isn't instinctive against the run. I did not like his film and came away thinking he would be a bust. He shows his elite speed on one play though where he races +40 yards down the field to catch an Alabama WR. It's pretty impressive and he has a good motor but at best Tapper will be a backup at the next level and would be a little surprised if he isn't just a flat out bust. Early 7th Round as my #13 PR 4/25/16.
Defending the pick: He ran a 4.59 40 at 271 lbs. Look at the size/speed ratio of guys in the 1st round and you will notice that Tapper has pretty much all of them beat. The Marinelli scheme requires speed rushers off the edge and Tapper has the speed to provide that. The defensive linemen at Oklahoma aren't used in the standard way most teams use them so Tapper has been underutilized a bit and is the reason his sack production was only mediocre. Rumor has it the Cowboys will use him inside at DT sometimes just like they did Jack Crawford the past two years. He is an ideal candidate for that role due to his long arms and huge hands.
Panning the pick: Tapper has elite size/speed ratio and it got him nothing but 3 mediocre sack seasons in college because his instincts, hips and agility were so bad. Now he's moving up another level in competition and he NOW will be productive? Not likely. Impact pass rushers are almost never found after the late 2nd/early 3rd round so Tapper likely will be a bust. I graded him as a 7th rounder as I didn't see a strong likelihood that he'd be any more productive than former standout Oklahoma defensive end Jeremy Beal who was a bust. The fact that they are talking about him as a defensive tackle prospect not a defensive end to me smells of desperation.
Overall: Tapper will not be a starting defensive end in the NFL. I am sometimes wrong on prospects but it seemed pretty straight forward that he couldn't cut it at that position. So his value really comes down to how the Cowboys will use him. I never thought of him as a defensive tackle but it makes some sense as his size/speed ratio is elite, his hand size is almost off the charts, his arm length is very good and he's strong against the run. Maybe moving him inside will unleash that athleticism which was so easily contained outside. I still don't love the pick, especially with so much talent still on the board (I really liked Eric Murray, Tyler Higbee, Hassan Ridgeway and Andrew Billings all who were taken within the next 20 picks) but the Tapper pick isn't as bad as I initially thought IF they try him inside at DT as that does intrigue me. I grade it a C
Selection: 4th Round (#135 Overall)
Dak Prescott Mississippi State 6'2 ¼ 226 Sr. Dak is a unique prospect as at 6'2 ¼ 226 with a 4.79 40 he has a thickness to him to go along with some speed and quickness which made him a legit dual threat in college. Unfortunately 4.79 isn't terrible fast in the NFL and when you watch him against a team like LSU his mediocre athleticism is apparent. He was a darkhorse Heisman candidate the past two seasons as the offense was basically built around him and he produced with 56 TDs to 16 INTs (3.5 to 1). Unfortunately I don't see his game translating well to the NFL as he isn't quick twitch fast, his 226 lbs isn't Cam Newton like so he won't be a regular short yardage rusher in the NFL, his accuracy is mediocre and even his arm strength has me less than impressed. I've seen him in the Top 5 of some QB Rankings by analysts but I don't see why as to me he's a backup at best but likely a bust at the next level. 7th Round as my #11 QB 4/6/16.
Defending the pick: Dak is a winner. He came into Mississippi State with that program being a dog and left with it being one of the better teams in the SEC. He won in the SEC then he went to the Senior Bowl and won MVP at that game and he will win in the NFL. He's a good combination of size, athleticism and throwing ability as he has far more touch than many dual threat QBs. He likely will never be a starter but his all around game could win the Cowboys a few games here or there if/when Romo gets hurt again. For a fourth round pick it's good value.
Panning the pick: Prescott isn't fast enough to be a dual threat in the NFL, if you disagree with me watch the LSU tape where he is just gobbled up by their NFL caliber athletes. That will force him to be a pocket passer and he just doesn't have the arm strength, accuracy or experience to be good in that role. He came from the same system as Tim Tebow, has a similar body type to Tebow and will be a bust like Tebow.
Overall: Prescott had a 7th round grade on my board as I saw him as a great college player that just didn't transition well to the pros. He has good touch but poor accuracy and arm strength and his film is just ridiculous as he NEVER had to make NFL caliber throws. The system he came from is so gimmicky and rudimentary that I just question whether he'll even make the Cowboys roster, let alone become the quality backup QB the Cowboys desperately need. I grade this pick an F
Selection: 6th Round (#189 Overall)
Anthony Brown Purdue 5'11 ¼ 192 Sr. He ran a 4.35 40 which was among the best 40's for DBs at the Combine. He's a big time tackler with 3 seasons of +50 tackles in his career. He didn't have an INT though until his senior season (4 INTs that year) which is a big red flag. He has some great film as a run defender as he's strong, physical and aggressive in that area. In 2015 he only played CB but in 2013-2014 he played CB and S with FS probably being his best fit as he lacks the hips or agility to stay at cornerback in my opinion. He's just too tightly built to make a good cornerback, despite his elite speed, and doesn't seem to locate the ball in the air very well. At FS though you might have a sleeper as he's a very good run defender and has all the speed you can ask for in terms of range. His lack of ball skills and tracking ability will be a red flag at FS though too so he has his negatives but he's an interesting prospect due to his size, speed and ability as a run defender. Late 4th round 5/5/16.
Defending the pick: Brown has elite speed, solid size and is a great run defender. He could be a CB if the Cowboys gave him help with linebackers on certain routes as he can give a good press off the line and has the speed to cover a wideout deep so he'd only need help with the intermediate routes due to his poor agility. Or he could play at free safety where he'd be an upgrade speed wise over JJ Wilcox. Either way Brown is a great value in the 6th round and should be able to battle for a role somewhere in the Cowboys secondary.
Panning the pick: 4 interceptions in 3 seasons as a starter. Yep sounds like a Cowboys secondary player to me. Why do the Cowboys bitch and moan to the media about how they need more turnovers and then draft players like this? If he works out, and with 6th round picks it is a big if, they will have a player with poor ball skills. That is the last thing this secondary needs more of. He is very tightly built and struggles to move laterally so I question his ability as a corner and if he's a safety you have another safety with no ball skills.
Overall: Brown is probably the best value of any of the Cowboys picks this year. I didn't grade him before the draft but in hindsight it makes a lot of sense as he's fast, physical and was a productive three year starter in the Big 10. I think he's more FS than CB but maybe he could play either spot if the team matched him up on the team's bigger, slower wideout. At FS though he'd give much needed competition to JJ Wilcox, assuming Byron Jones is a CB in 2016, and his 4.35 40 shows that he has elite speed, something none of the Cowboys secondary has. I really like this pick and grade it an A-
Selection: 6th Round (#212 Overall)
Kavon Frazier Central Michigan 5'11 ⅞ 187 Sr. He played regularly all four years at Central Michigan. He had 5 INTs in his career but only 1 INT in his final two seasons (3 INTs as a Soph in 2013). The school listed him 19 lbs heavier than his Combine which makes me wonder if he cut weight to run a fast 40 time. He's a strong, physical player that looks like a future SS in the pros. He's very aggressive in run support and is an emotional player that could be a leader of a defense some day. He has some good film as a special teams standout and he fits that profile perfectly with his good size and hitting ability. He ran a 4.58 40 at his pro day with a '40 ½ vertical and 10'8 broad jump all of which are outstanding. He has solid agility and is a sure tackler but I don't see 4.5 speed on film. All of his film is him attacking the ball in front of him and I can't find any real footage of him tracking a ball down the field and only a little film of him breaking on a pass in front of him. He looks like a core special teamer with a chance to become a starter at SS if a team uses that position as an in the box type guy. 6th round 5/5/16.
Defending the pick: The Cowboys need to add competition to all of their secondary positions and Frazier is an elite athlete that projects as a possible future starter at SS. He should be immediate competition for Jeff Heath as the backup strong safety and could be an option to replace Barry Church down the road.
Panning the pick: Frazier shows no cover skills on film and projects as a career special teamer in my eyes. I question whether he will even make this team's roster as Jeff Heather is very good in that area and Frazier might be caught in a numbers game.
Overall: Ironically enough NFL.com compared Frazier to Barry Church in their draft profile as an immediate impact special teams player who could develop into a starter down the line. That is what Church did and the Cowboys must be hoping that lightning strikes twice. I think Frazier is solid value in the 6th round as he looks like that classic, backup/special teamer with a chance to develop. I wouldn't be surprised if he doesn't make the roster but also wouldn't be surprised if he was a backup for a few years and became a mediocre starter a la Church. He has no cover skills though so I can't be too excited as it again makes me question how the Cowboys evaluate secondary prospects. I grade this pick as a B-
Selection: 6th Round (#216 Overall)
Darius Jackson Eastern Michigan 6'0 221 Sr. He wasn't invited to the Combine. He's a bit of a one year wonder with less than 300 yards rushing and under 5.0 ypc each of his first three seasons. He only has 44 career receptions in 4 years and wasn't used much in the passing game. At his pro day he ran a 4.35 40 and wowed in other areas too ('41 vertical, 11'1 broad jump-both being among the best at the RB position). He has good size so that athleticism makes him a rare size/speed guy but I didn't see it translate to the field when watching his film as he has more of a sneaky quickness to him than an uber athleticism. To me he's a workout warrior who is only worth a shot in the late rounds due to his amazing pro day. 7th round 5/5/16.
Defending the pick: The Cowboys clearly love drafting elite athletes (Byron Jones, Tyron Smith, Randy Gregory, etc.) and Jackson was arguably the best athlete drafted on all of Day 3. In the 6th round that's worth it even if he doesn't pan out as getting a chance to work with a kid of his upside is rare this deep in the draft. Also he can be the team's #5 RB and move up to #4 or even #3 next year depending on how free agency works out with McFadden and Dunbar.
Panning the pick: Honestly this is less about Jackson as a prospect and more about the position Jackson plays, running back. With the Elliott pick at #4 the Cowboys had a depth chart with Elliott, Darren McFadden, Alfred Morris and Lance Dunbar. That is probably the best depth chart at any position on the team yet they take another running back? What is even worse is this kid is from a small school, is a one year wonder (under 300 yards rushing till his senior year) and never had a great yards per carry. He likely won't even make the team.
Overall: The Cowboys are more about athleticism than I am and I am more about productivity than they are so it's not surprising to see them take a guy like Jackson and for me to hate it. I have two issues with him. First off, why did he never dominate a lower level of competition despite his freakish athleticism. He barely was even on the field until 2015 and even his senior season (1,078 yards rushing on 5.18 ypc) is mediocre. Secondly why would the Cowboys draft another running back anyway? To me this pick is not good value and is a terrible fit. I grade it a F
Selection: 6th Round (#217 Overall)
Rico Gathers Baylor 6'6 273 Jr. He hasn't played football since he was 13 but has the size, length, strength and agility which make him an ideal candidate to switch from PF in basketball to TE in football. He ran a 4.75 40 at his pro day. He led the Big 12 in rebounding in 2015. I couldn't find any film of his pro day and, obviously there isn't any footage of him playing football, so I had to go off his basketball film. He's a thickly built, athletic kid with great dexterity and amazing hops. He did some in between the legs dunks that could win a slam dunk competition so he likely has a +40 inch vertical. His frame suggests football though over basketball as again he's extremely thickly built and lacks the length to stay inside or the agility to move outside to small forward. He is an interesting prospect but without ever seeing him run a route or catch a football I really can't grade him. Incomplete 5/5/16.
Defending the pick: When you review previous drafts you quickly see that certain positions are almost a waste of a pick after a certain point. There are practically no quarterbacks or left tackles taken after the first two rounds that become starters and there are practically no starting cornerbacks or tight ends after the first four rounds. At tight end only Mychal Rivera, Luke Wilson, Charles Clay, Kellen Davis and Brent Celek are regular starting tight ends that were drafted in the past 10 drafts after round 4. Of those only Clay and Celek can be considered quality starters for their teams. So taking a tight end in the 6th round is a low probability roll of the dice anyway. In that case why not roll the dice on greatness and take a kid like Gathers that has Pro Bowl athleticism at least. He is raw as can be but the Cowboys depth chart is already pretty set at tight end with Witten, Escobar and Hanna so Gathers is a luxury pick that can be kept if they find something in him at training camp or can easily be cut without a second thought if he is a bust. Also Jason Witten is the best possible teacher for a raw tight end so why not draft a project for him to mentor?
Panning the pick: First off this was a 6th round pick not a 7th round pick. I didn't see Gathers being drafted at all but to take him in the 6th round instead of the 7th is even more surprising. Second off he's being compared to Jimmy Graham, Jordan Cameron and others but the problem with that comparison is they played in college. Gathers didn't just not play in college, he didn't play in high school as his last playing experience was as a 13 year old. Finally probably my biggest issue with Gathers is that he had the eligibility to go back to Baylor and play football in 2016 and he declined. I worry that he is just looking to get a few hundred thousand dollars out of a team by teasing them with his talent. Why would he not want to go back to Baylor to play football in college for a season to hone his craft and remove some of the rust from his game? To me that lack of willingness to take the necessary steps in the process make me question his desire to fulfill his "childhood dream."
Overall: Few 6th round picks ever end up starting for an NFL team let alone become an impact starter so to take a piece of clay with his upside makes some sense. I question though why they couldn't trade down into the 7th round for a guy most didn't see being draft worthy but whatever he's just a low risk/high reward roll of the dice. I give the odd pick a C